With the days getting shorter,colder and darker we are slowly heading into winter (hooray for some, boo hoo for others!) Its happening either way like it or not so lets be prepared with some ideas to (hopefully) make it an enjoyable and memorable time for everyone!
First of all, we are bound to be staying indoors more which although at first may seem great it can get boring. So here are some ways to beat the cabin fever and have a great time…
F

OOD – IN THE KITCHEN…
Choc Chip Cookies
Ingredients: • 100g brown sugar
• 125g butter (unsalted)
• 1 egg
• 1 1/2 tsps vanilla essence
• 1/2 tsps salt
• 225g Self Raising Flour
• 200g chocolate (any kind you like!)
• 1/2 tsp salt
Method: Pre-heat oven to 200*c. Put the butter and sugar in a large bowl and mix well. Add the egg and vanilla essence and mix again. Sieve in flour and salt then mix and combine well. Cut the chocolate, but not too finely and add. Mix all together, then roll balls of mixture to about 2cm by 2cm and place on a baking tray with baking parchment on. Be careful not to put the cookies too close together, as they grow in the oven. Place in preheated oven for 7-10 minutes.
For double chocolate cookies simply replace 50g flour with 75g chocolate powder. This recipe can be made with nuts, raisins or smarties too!
Hot Chocolate Deluxe
Ingredients: 1/4 cup unsweetened cocoa powder
1/2 cup granulated sugar
1/3 cup hot water
1/8 tsp salt
4 cups milk (Dairy or non-dairy)
1 teaspoon vanilla extract
Method: Combine the cocoa, sugar, water, and salt in a medium saucepan. Over medium heat, stir constantly until the mixture boils. Cook, stirring constantly for 1 minute.Stir in the milk and heat, but do not boil. Remove from the heat and add vanilla; stir well. Serve immediately. You can make this more fun by adding marshmallows or cream on top!
That should keep you warm,cosy and busy on a snowy day! Now enough with the food element and onwards to the fashion…
FASHION…
According to this years' fashion experts the top colour for this winter is:
FLAME SCARLET
  CALVIN KLEIN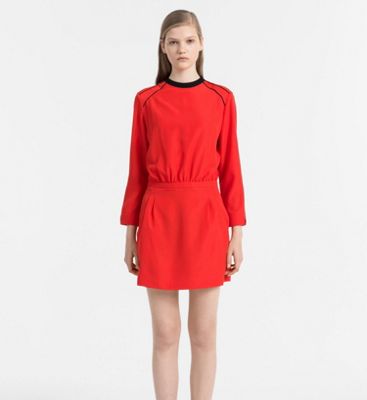 Now for the jewellery accessories from The Silver Shop to go with the dress:
Wishing you all a relaxing and enjoyable winter!
Love
The Silver Shop… Add a little sparkle